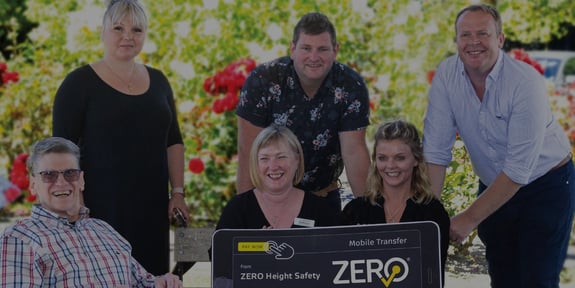 OUR COMMUNITY
At ZERO®, giving back to our community is important to us. Volunteering allows our team to have a sense of fulfilment and contribution. We love supporting organisations that are doing great work and whose company values align with our own.

It all started with a cheese roll in 2021. A team building exercise to fundraise as much as we could for something we are passionate about. With head protection at the heart of what we do, the Laura Fergusson Brain Injury Trust was the perfect choice for our team's fundraising efforts. As an organization that places head protection at the forefront of its vision, it's only fitting that we support a charity that shares our values.
2000 cheese rolls later, our alignment with the Laura Fergusson Brain Injury Trust has flourished into new and exciting fundraising events and educational programmes. We know that our alignment with this organization will make a positive impact on the lives of those who need it most.
LAURA FERGUSSON BRAIN INJURY TRUST
Supporting nearly 1,000 people in the South Island affected by traumatic brain, spinal and other complex injuries or disabilities.
Currently, their services are in demand more than ever, and facilities and residential accommodation options are no longer fit for purpose. Service delivery is also scattered across the city.
ONE CAMPUS WHERE ALL SERVICES ARE DELIVERED
ZERO® are behind the Laura Fergusson Brain Injury Trust's goal of building one campus where all their services are delivered from the same place and where they can help more people affected by a traumatic brain injury, spinal or other complex injury or disability.
ONE UNITED TEAM IN ONE LOCATION
One campus would allow them to focus and streamline their services so clients enjoy smoother transitions along their journey. Uniting their team of specialists and support staff in one location also strengthens their capabilities and makes it easier for clients and other healthcare professionals to access them. It is also an opportunity to design and build facilities that future-proof their services.
WE NEED YOUR HELP
With your help, we can all support people impacted by brain a injury. When you purchase a ZERO® multi-impact test helmet, ZERO® will donate $1 to the Laura Fergusson Brain Injury Trust.
Together, we can help the Laura Fergusson Brain Injury Trust to reach their goal of building a single, purpose-built facility to deliver all of their services from one location.
To find out more about how you can support Laura Fergusson visit: lfbit.co.nz
WE'RE SUPPORTING ELMER'S ŌTAUTAHI ELEPHANT TRAIL
We're proud to be an official Supporter of Elmer's Ōtautahi Elephant Trail, an exciting and unique initiative aimed at raising awareness and funds for individuals affected by brain injuries.